I posted a few pictures at the start of this build - it`s had to be done in an odd hour here and there `cos I`ve been so busy but it`s finally pretty much finished...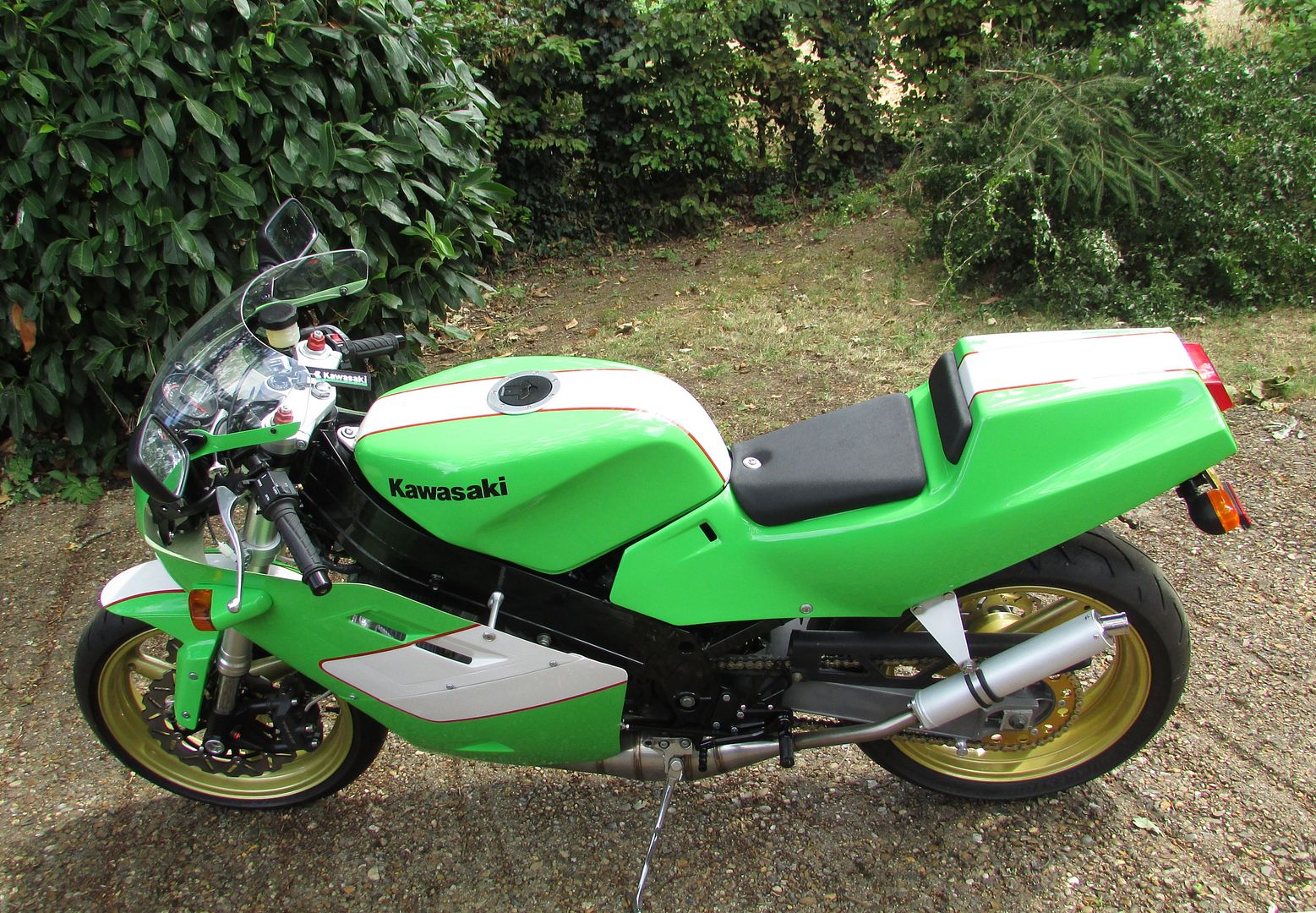 My general aim was to make a light, functional, updated version of the KR1 - brief specs below...
Frame - KR1 with KR1S swingarm, ZXR400H yokes on taper roller bearings, frame and yokes powder coated, swingarm stripped and anodised. GSX-R1000 handlebars, modified FXCNC footrest kit.
Suspension - Nitron R2 rear shock with BDK jackup links, ZX-6R forks with modified springs & damping.
Brakes - ZX-6R 4-pad Tokico radial front calipers, stock KR1 rear, GSX-R1000 front master cylinder, NC30 rear, EBC HH pads and HEL braided lines all round. Wavy discs.
Wheels - Suzuki VJ22 17" rear, Hornet front, Bridgestone S20 tyres.
Engine - Cases vapour blasted then rebuilt with new crank, pistons, clutch etc. Barrels mildly ported, F3 KIPS valves, lightened flywheel.
Carbs - 34mm powerjets with modified airbox and Pipercross filter.
Exhaust - JL stainless expansion chambers, rear flanges reshaped to take Tyga alloy mufflers.
Cooling - YFZ450 radiator on custom brackets, slightly modified Samco KR1 hose kit.
Ignition - Ignitech programmable CDI.
Bodywork - Race GRP seat & fairing, stock steel tank. ZX-10R front mudguard. Seat pads reupholstered in `mock suede` vinyl. Colour scheme based on one of Toni Mang`s old GP bikes.
Lights/instruments - TZR125 headlight behind moulded polycarbonate fairing window, stock rear light, pattern stock replica front indicators, universal rears on custom bracket, Koso temperature gauge and analogue/digital speedo/tach unit.
Rick