thought i would stick a few photos up now ive got them on postimage.....
bought betsey back in 1998 after a very serious bike accident.i was told never ride again so bought a kr1s....
used on trackdays for the last ten years she spent some of her time like this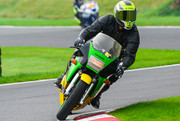 but most of her time like this...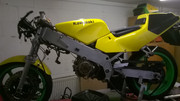 and many diferent looks over the years..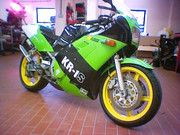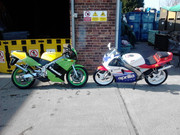 but recently after her sitting outside for a year i decided to put her back on the road as standard.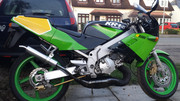 to put her back ive fitted...
new battery
new wheel bearings
new discs
refurbed calipers,new seals,pads and bolts
new fork seals
new headstock bearings
s/hand tank,new stickers
changed rear brake arm from polished to gold,changed clipons from gold to silver(anal i know)
new genuine bolts(discs,calipers,hangers etc all available still from KHI and quite cheap.
brake pivot pins
fuel tap seals
ultrasonic cleaned carbs,new carb internals and pipes
new plugs and airfilter
clutch and break levers and fluid resovours
new pistons,smallends and plated barrels(stock)
new clutch and springs
new screen and mirrors
s/hand pillion seat
and stock pipes and silencers fitted......
cant wait for a sunny day.........